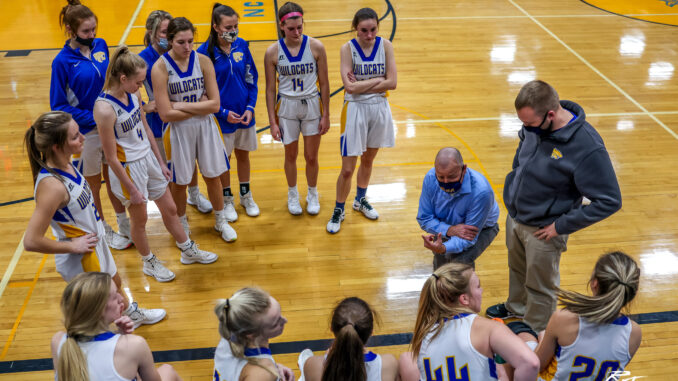 By: Donovan W. Mann – donovanm@977thebolt.com
Humboldt, IA – Humboldt High School girls basketball grinds out a big win to finish the regular season.
On Thursday, February 11, the Humboldt Wildcats hosted the Clarion-Goldfield-Dows Cowgirls for the final game of the regular season. It was a 65-62 victory for Humboldt.
The first quarter allowed the visitors to jump to an early advantage of eight points. It was 15-7 after the first period.
Humboldt began to battle back in the second quarter however. They would get closer but still trailed at the half 33-31.
The third quarter was tight but CGD still managed to grow their lead by two more points. It was 48-44 after three.
Humboldt offense clicked off another quarter with more than 20 points to get the comeback win. They won the quarter 21-15 to win the game 65-62.
As a team Humboldt was 36 percent from the field and hit eight of the 15 three pointers. They also had 27 free throw attempts and made 21 of them. They had 27 rebounds, 13 assists and seven steals. Ball security was tight as they only had 10 turnovers.
Forward Kendal Clark had 25 points on 7-13 shooting (2-2 three pointers) and 9-10 from the charity stripe. She also had eleven rebounds for the double-double. Guards Bae Arnold (14) and Jayda Hoefer (13) also had double-digit scoring.
Clarion-Goldfield-Dows guard Raven Kinnetz scored 18 points to be the top scorer on her team. Forward Lexie Lane (17) and center Morgan Middleton (14) also had double figure scoring.
A final stat report from Humboldt High School girl's basketball's game against Clarion-Goldfield-Dows can be found on Varsity Bound.
With the win Humboldt will finish the regular season with a 17-4 record on the season and 11-3 in the North Central Conference. They will split the season series with CGD, both taking their home game. The 17 wins is also a school record for five player wins in a single season.
The Wildcats will begin their postseason runs on Saturday, Feb. 13 by hosting Southeast Valley in the opening round of the regional tournament. Tip-off is scheduled for 7 pm.
Featured photo courtesy of Rick Thompson.