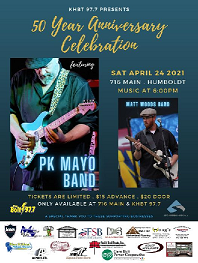 Humboldt, IA – On Saturday, April 24, KHBT radio will be hosting their 50th Anniversary Celebration at 716 Main in Humboldt.
The event was to happen last year, but it will certainly be worth the wait.  The 50th Anniversary Celebration will feature live music performances from the Matt Woods Band of Iowa and acclaimed Twin Cities musician Paul Mayasich, front-man with the PK Mayo Band.
KHBT will have door prizes and sweet treats for those in attendance.  Tickets will be limited at a cost of $15 when purchased in advance. Tickets go on sale on Friday, March 5th and available at 716 Main in Humboldt or at the KHBT offices on Highway 3 East in Humboldt.
Continue listening to 97.7 The Bolt for additional concert details and ways to win tickets to the show.