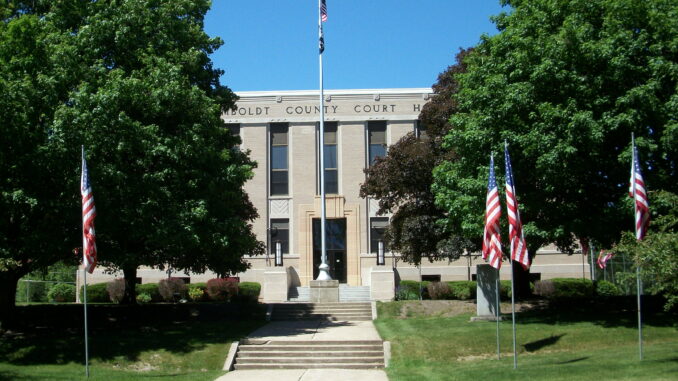 By: Donovan W. Mann – donovanm@977thebolt.com
Dakota City, IA – The Humboldt County Board of Supervisors is standing strong on how they want to pay for the sanitarian in Humboldt County.
On Monday, February 22, the board met for the third time with Pocahontas County Health Department Administrator Anne Thompson to discuss the shared sanitarian position between the two counties. She says due to many factors the agreement had a lot of gray areas but now is the time to make it black and white.
Thompson was instructed by her board of health that an answer had to come during this meeting. As the weather gets warmer the need for the environmental health expert grows. Thompson says she was either leaving the meeting to draft a new 28E agreement or a notice of termination.
The supervisors were given two options. The first was to continue the agreement but divide the cost as a 50-50 split between the two counties. When salary, insurance and other costs added up the cost would be $36,692 per county.
Supervisors Erik Underberg asked if they could keep the agreement as previously established where the Humboldt County is only billed for work done in Humboldt County "not to exceed 20 hours a week." This would still see the expense go up for Humboldt County because the hourly rate would increase from $20 an hour to $35.28 an hour. The previous sanitarian averaged about 12-16 hours of work done per week in Humboldt County.
Thompson said yes and asked about other expenses associated with the position. This includes annual training, administrative costs and mileage. The supervisors agreed to pay mileage but nothing else. Supervisor David Lee says that the sanitarian would be Pocahontas County's employee and Humboldt County would just be contracting the services.
Following the discussions the motion was made to keep the agreement as written but for the new hourly rate and mileage. Supervisors Lee, Underberg and Sandy Loney voted yes and Bruce Reimers voted against it.
This agreement will last for one year. Either party can terminate the agreement with 30 days notice or 60 days before the end of the fiscal year.
The supervisors will also continue to explore other options for the sanitarian position.