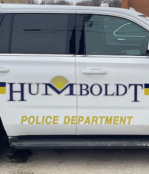 By: Donovan W. Mann – donovanm@977thebolt.com
Humboldt, IA – No injuries reported after a parked sedan is struck by a pickup truck plowing snow.
Officer David Jones of the Humboldt Police Department files the report on the two vehicle incident. His report says that on Saturday, February 13, Michael Duffy, 58, of Humboldt was plowing snow at Humboldt High School in a white Ford F250. He was backing up and didn't see a parked red Dodge Charger behind him. The pickup collided with the Charger which was spun completely around to face the opposite direction.
The incident resulted in minor damages to the F250 and functional damage to the Charger. No injuries were reported by Officer Jones at the time of the incident.