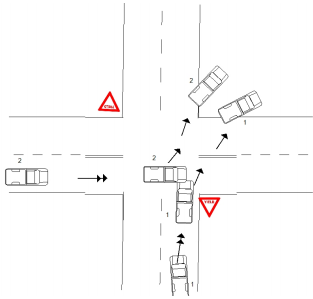 By: Donovan W. Mann – donovanm@977thebolt.com
Livermore, IA – No injuries reported after failing to yield results in a two vehicles collision in Livermore.
Deputy Kenneth Vorland of the Humboldt County Sheriff's Office files the report on the two car incident. The report states that on Tuesday, Jan. 26, Thomas Ford, 20, of Livermore was traveling north while Nathan Hosford, 29, of Livermore was traveling east. The two drivers approached the same intersection and Ford advised he forgot he had a yield sign and was unable to stop quick enough because of the icy streets. He slid into the intersection and his white Chevrolet Silverado struck Hosford's white Chamberlain Pick-up truck.
The incident resulted in minor damages to both vehicles according to the report. No injuries were reported by Deputy Vorland at the time of the incident.