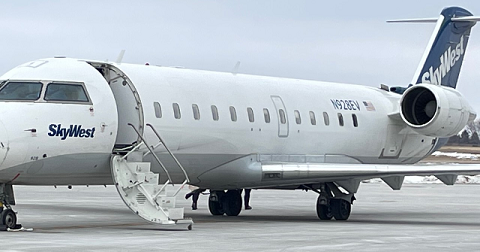 By: Donovan W. Mann – donovanm@977thebolt.com
Fort Dodge, IA – Fort Dodge Regional Airport is excited to better serve the region as they welcome in a new partner.
On Monday, March 1, the regional airport welcomed in and sent off their first United Express jet between Chicago O'Hare International Airport. These new flights offered are operated by SkyWest Airlines and will provide fliers "seamless access to the United Airlines global network."
Airport Manager Rhonda Chambers spoke before the crowd following a ribbon cutting. "We are excited for our first flight on United Express operated by SkyWest to Fort Dodge out of Chicgao" she says to the tune of applause by those in attendance.
She says that over 600 flights leave the Chicago Airport to over 200 destination on United's global network. "So those connections are huge for everyone."
Fort Dodge Mayor Matt Bemrich says that they are truly excited to begin the partnership with United Sky West. He says when he thinks about the value of this partnership is "so much bigger than Fort Dodge and Webster County." He says it's about creating a "regional opportunity" for those in the rural part of Iowa to have "connectivity" by just driving a few miles instead of to a major metro airline.
Todd McCubbin with Northland Travel Agency says that United Express provides fliers to be more efficient with their travels. He says that Northland Travel Agency is now able to book someone "straight from Fort Dodge to wherever they're going." This is without having to transfer luggage and checking out and back in through security. "It lets you fly from Fort Dodge straight to anywhere in the world without any of the hassle that kind of came with it before."
The first incoming flight from Chicago arrived around 10:56 am. According to airline staff is carried eleven passengers. Following the ribbon cutting the first outgoing flight departed with nine passengers.
SkyWest Airlines is located out of George Utah and has 47 years of experience in connecting small and medium communities to regional hubs.