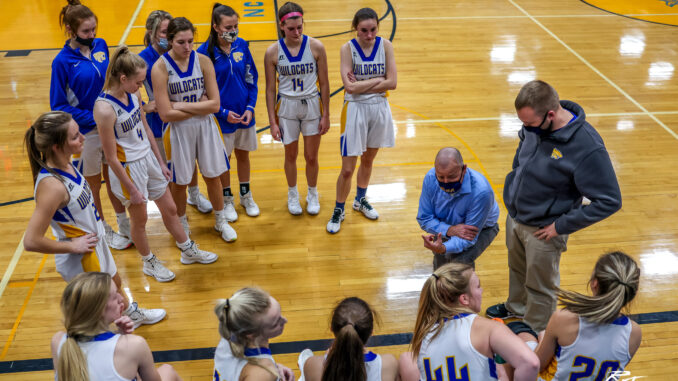 By: Donovan W. Mann – donovanm@977thebolt.com
Humboldt, IA – Humboldt High School girls' basketball sees multiple school records broken during the 2020-2021 season.
The Humboldt Wildcats saw plenty of success this past season. Their 18 wins now stands as the school record, breaking the 2016-17 mark of 16. The team also set the record for three point makes in a season at 134, previously set at 104 in 2015-16.
Multiple individual records were set for the program as well:
Kendal Clark broke the single season scoring record with 385 (16.7 points per game). The record was previously 375 and was set by Bobbi Jo Lane in the 1996-97 season.
Bae Arnold set the school record most three point shots made in a season by hitting 65 this season. The record was previously held by Avery Terwilliger who made 53 during the 2014-15 season.
Jori Hajek set the all time steals record over the course of her four year career with 315. Hajek broke this record last season. The previous mark was held by Terwilliger at 222 from 2013-17.
As previously reported Clark, Arnold and Hajek all made it on the all-conference list. Three Humboldt girls were named academic all-state: Jayda Hoefer, Kaylee Shaner and Emily Zaugg.
Head Coach Rodd Mooney says he is proud to have been apart of this record setting season. He praises his seniors for helping lead the team through the unusual waters that were brought on by the COVID-19 pandemic and resulting protocol. Their leadership was "instrumental" to this seasons success according to their coach.
Coach Mooney says their plan coming into the season was to play the "inside-out" style of game. However when opponents limited the post coach says he felt like "most of the time" they were able to adjust their offense accordingly.
The program will be saying goodbye to seven seniors. Coach Mooney says this class represented themselves, the school and their families with "class"throughout their careers.
He says it's "been fun" to be their coach and that their leadership will help the program going forward.
Humboldt girls' basketball finished the season with an 18-5 record. They tied for second place in the North Central Conference with an 11-3 record and won the traditions division of the conference at 6-0.