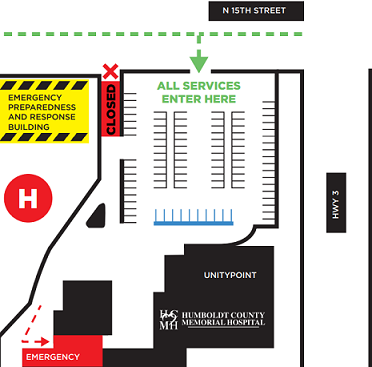 By: Donovan W. Mann – donovanm@977thebolt.com
Humboldt, IA – Humboldt County Memorial Hospital warns the public of some traffic rerouting while construction continues for the new Emergency Preparedness and Response Building.
Announced through a release, the hospital says the new building is "making great progress and beginning to show shape." As construction continues, some minor traffic rerouting will be necessary as they tie-in the water and sewer to the building.
This will be a three-phase approach. The first phase will be from March 22 through March 24. During this stretch, the primary drive to the facility will be under construction.
While this happens, all vehicles will need to enter through the southeast side of the main parking lot off North 15th Street. Signs will be present to help navigate through the construction.
HCMH apologizes for any inconvenience the closures may cause. They encourage patients keep their appointments and utilize all of the services offered at HCMH. If parking close to the entrance is not available and a wheelchair is needed, call the hospital upon arrival and a staff member will be able to assist you.
Further updates and information for Phase 2 beginning March 29 and Phase 3 beginning April 5 will be provided at a later date.
Any questions and concerns can be addressed by HCMH at (515)332-4200.