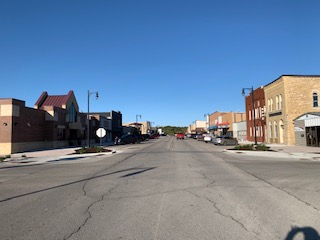 By: Donovan W. Mann – donovanm@977thebolt.com
Humboldt, IA – The City of Humboldt is clarifying and re-establishing the protocol for snow removal in the downtown area.
During the meeting of the City Council on Monday, March 15, they held discussions on who does snow removal for the sidewalks downtown. These discussions come after multiple concerns were brought to council members and staff.
Some council members say they thought the city was supposed to clear the downtown sidewalks. Councilman Kirk Whittlesey says some downtown businesses reached out to him after their sidewalks were still snow covered following Sunday into Monday's snow fall.
Following discussions council and city administration decided that the city staff would be the ones to clear the snow in the mornings. However, in cases of continuous snow fall throughout the day the adjacent property owner would be responsible for the maintenance as needed. The city would then come by the next morning to do another clean off.
The clean offs will occur in the early morning to avoid parked cars downtown. This also only applies for the sidewalks on Sumner Avenue and not the side streets.