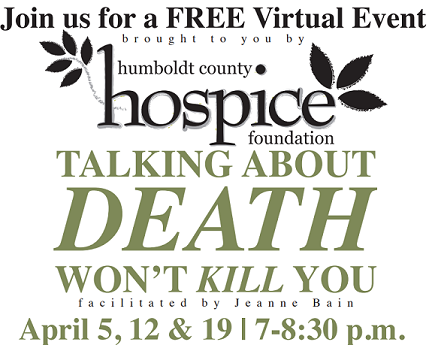 By: Donovan W. Mann – donovanm@977thebolt.com
Humboldt, IA – The Humboldt County Hospice Foundation is planning a series of three free Monday Night webinars in early April.
The "Talking About Death Won't Kill You" webinars are there to help members of the public consider important decisions for end-of-life preparations. The foundation says that while many try to avoid the topic of death before it is necessary, this may not be the best approach.
The Humboldt County Hospice Foundation is extending the invitation to the public to attend the three unique webinars. They will help direct viewers thoughts to "what you want for the end of your life."
The Webinars will be led by Jeanne Bain, M.A., who is the director of Be Love Navigation and Care Support in Minneapolis. With a specialty in end-of-life coaching, Bain leads seminars and hosts podcasts encouraging people of all ages to consider an inevitable part of life.
The sessions will be held through the Zoom app and be on the first three Mondays in April. They will be from 7-8:30 pm. The topics will be "Let's Talk About Death," "Let's Get Our Affairs in Order" and "Let's Share the Love."
Those wishing to register for the webinars can do so online at huboldthospital.org under "News, Classes and Events." After registering, participants will receive the Zoom link and a reminder.