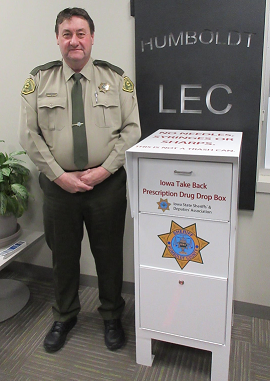 By: Donovan W. Mann – donovanm@977thebolt.com
Humboldt, IA – The Humboldt County Law Enforcement Center is now using a new medication drop box to collect expired prescription drugs.
First announced through the LEC's Facebook page the local law enforcement has a new "Iowa Take Back Prescription Drug Drop Box" in their lobby were anyone can come in and drop of their expired and no longer needed prescriptions. The box was obtained through a grant from the Iowa State Sheriff's and Deputies Association.
Chief Deputy Corey Lampe says that there was a drop box in the LEC before. However, that box has not been mounted on the wall for "some time." This new box is also much larger so it can accommodate larger drops and not have to be emptied as often. Chief Deputy Lampe says this box is more secure and "bulkier" so its contents are less likely to be stolen.
Syringes and sharps should not be put in this medication drop box. The chief deputy says expired medication is all this is intended for. He says that a box like this does help keep those prescriptions out of homes longer than they are needed and lessens the possibility for abuse.
For anyone in the public who wishes to dispose of any prescription medication they no longer need or is expired they simply go into the LEC and utilize this box. The office is always open and the drop box can be used at any time.
Featured photo courtesy of the Humboldt County LEC's Facebook page.