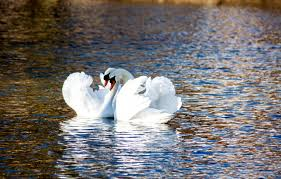 By: Donovan W. Mann – donovanm@977thebolt.com
Humboldt, IA – The City of Humboldt is saying goodbye to the two beloved swans who blessed the community with their beauty.
On Tuesday, March 2, the city reported the news through their Facebook page. They say it was a "sad day" as they announced the male swan named Fred needed to be euthanized at the rehab facility.
Shortly after receiving that news the Parks Superintendent received a call from a resident who believed the female swan, Wilma, had died in the pond. Wilma was reported to be in good health and nothing was found by the parks staff to believe it was anything but natural causes.
The city reports there is evidence out there that supports swans can die of a broken heart and they believe this to be the case for Wilma.