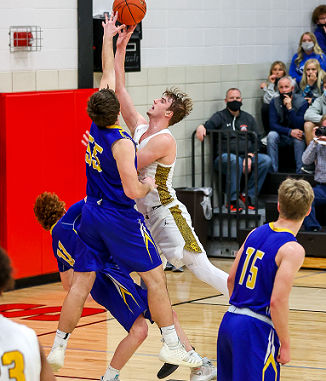 By: Donovan W. Mann – donovanm@977thebolt.com
Algona, IA – Humboldt High School boys' basketball falls in the substate finals to close out their 2020-2021 season.
On Tuesday, March 2, the Humboldt Wildcats traveled to neutral territory to face the Clear Lake Lions in the Class 3A Substate 2 Finals. Clear Lake came out on top by a final score of 64-48.
The first quarter ignited what would be a big half for the Lions who got guard Carson Toebe eleven points in the period to build his confidence. After one Clear Lake held the 19-8 advantage.
The lead would grow for Clear Lake in quarter two. The Lion's got forward Andrew Formanek eight points as his team pushed their advantage to 16 at 39-23.
Humboldt looked to strike back and start a comeback in the third quarter. Guard Will Orness recorded eight points in the quarter as Humboldt got back within 13, trailing 50-37.
The fourth quarter saw no changes as every time Humboldt seemed on the verge of starting a run Clear Lake would nip it in the bud. Ultimately the Lions pushed it back to a 16 point lead for the final 64-48 score.
Humboldt was led by Orness who finished with 17 points. Guard Caden Matson recorded 14 points as the only other Wildcat in double-figure scoring.
Clear Lake shot 45.1 percent from the field as a team including 39.1 percent from three point range. They had 36 team rebounds, 17 assists to nine turnovers.
Toebe led his team with 28 points on 8-18 shooting (5-11 from behind the arch). Formanek had a double-double with 13 points and 10 rebounds.
The final state report from Humboldt High School boys' basketball versus Clear Lake in the Class 3A Substate 2 Finals can be found on Varsity Bound.
The postseason loss will conclude Humboldt's season. Will Orness was named Player of the Game by KHBT as part of the broadcast coverage.
The Wildcats will conclude their season with a 15-8 record. Their win tally includes two postseason victories over Webster City and Algona. They placed third in the North Central Conference with a 9-4 record.
Featured photo courtesy of Rick Thompson.