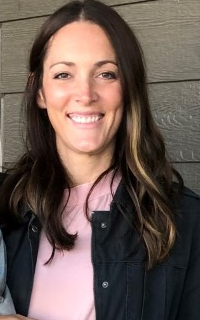 By: Donovan W. Mann – donovanm@977thebolt.com
Humboldt, IA – Humboldt High School volleyball is operating with a new head coach.
Kara Waldorf has been named the next coach for the Humboldt Wildcat Volleyball program. Waldorf is a former high school and collegiate player who is ready to bring Wildcats to the next level.
Waldorf is from the Ankeny area and lived in Minneapolis for six years with her husband, Adam, before coming to Humboldt in 2012 to get involved in a family business. "We really love being back in this area and being part of the Humboldt Community" she says.
The coach has three young children and she is glad they get to grow up in this community. Their family enjoys being part of the Humboldt Community School District and attending Wildcat sporting events.
The new coach says she's played volleyball for most of her life and recently started coaching AAU a few years ago which rekindled her passion for the sport. When the position at Humboldt opened up she says the time to take a leap to the varsity level just seemed right.
"There was a few people who had approached me and encouraged me to apply for the job" she says. Coach Waldorf says she decided it could be a "really fun challenge" for her and she's really excited to be a part of the Wildcat program.
Coach Waldorf is a firm believer in "you play like you practice" and plans to bring a high paced brand of volleyball to the Wildcat program. She says there are two main goals she hopes to accomplish while at the helm of the team.
The first goal is to make the younger developmental programs more streamlined up to the varsity level. She wants to make sure that the players progress in their skill sets throughout their athletic journey. This is comparable to how the Humboldt wrestling program develops their athletes.
The second goal is to be a more consistent player in the state tournament. Coach Waldorf says that is one of her "biggest and most exciting goals." In 2020 the team made the tournament for the first time and the new coach hopes to make them the example going forward.
Coach Kara Waldorf played her prep years at Ankeny High School as well as fives years for a the national club program called the Iowa Power Volleyball Alliance. In college she was a scholarship player for Augustana University where she played, libero, right side and outside hitter for the nationally ranked Division II program.
Coach Waldorf says she is excited for the opportunity to be Humboldt Volleyball's next head coach and looks forward to the work ahead.
Interview with Coach Kara Waldorf: