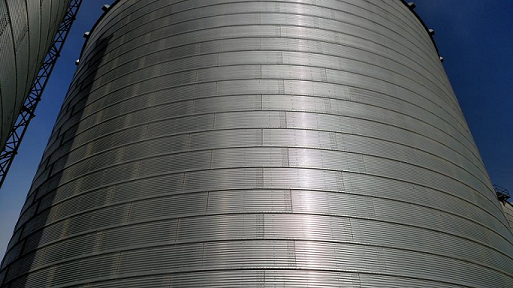 By: Donovan W. Mann – [email protected]
Mason City, IA – Golden Grain Energy in Mason City is boasting the World's Largest Steel Bin 2021.
CEO Chad Kuhlers says the bin is 165 feet in diameter with 110 foot side walls. The peak eaves height is 155 feet and will be able to hold 2.2 million bushels.
Golden Grain Energy is an ethanol plant that was founded in 2004. Kuhlers says over the years as they've been working to expand their output they have also needed to expand their input.
"Throughout this entire expansion period we have not placed a lot of emphasis in our corn receiving infrastructure and our corn storage." Before this project Golden Grain only had about nine days' worth of corn storage on sight.
The CEO says that the Golden Grain contracted with a third party to help analyze how the limited storage was impacting their purchasing prices. "And the analysis showed that this is impacting the price that we have to pay for our corn."
The numbers showed that they needed to improve and increase their onsite capacity. Kuhlers says the number they looked to reach was at least 30 days' worth of onsite storage in order to optimize the timing of corn purchase.
As for becoming the world's largest steel bin, that happened after a conversation with Sukup Manufacturing. The contractor's President and CEO Steve Sukup said he had put together "several" 2 million bush bins before but he wanted to do a 2.2 million bin.
That was the next biggest size for Sukup Manufacturing and had never been built before. Sukup felt like putting it at Golden Grain was a good opportunity.
Golden Grain Energy is a privately-held company dedicated to adding value to norther Iowa's corn production by turning locally grown corn into clean-burning ethanol. They currently produce approximately 120 million gallons of ethanol annually at their plan in Mason City.