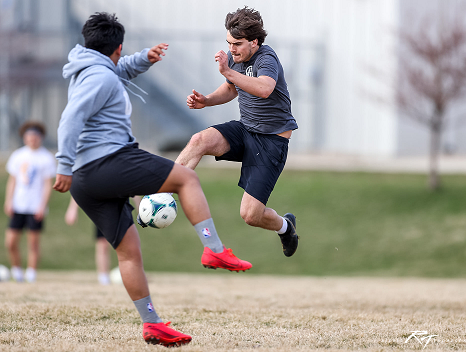 By: Donovan W. Mann – donovanm@977thebolt.com
Humboldt, IA – Humboldt High School boys' soccer is looking to carry momentum despite a gap year.
On Monday, April 5th, the Wildcat boys' soccer team will return to the playing field for the first time since 2019. That season ended as in the Substate Finals with a 4-1 loss to Columbus Catholic.
In 2020 the boys were poised to try another run at a state spot with a solid group of seniors returning. Then the COVID-19 pandemic struck before they even had a chance to get to practice.
Head Coach Joe Hadar says they were really motivated going into last season. They had that solid core ready to carry the momentum from 2019 into 2020 but they were robbed the chance to prove themselves.
This year there will be a boys' soccer season for the State of Iowa. Humboldt will be fielding a "nice mix" of experience and fresh faces on the field this year.
Coach Hadar says he's "fortunate" that he's getting some players that haven't played since they were young and are returning to the sport in high school. Then there are the players who've be fed through the youth rec program and middle school travel teams.
With the talent pipeline being present coach says there is "a lot of pressure" on him to have success. This is a challenge he certainly enjoys and he likes the mix of talent plus experience and talent without varsity experience. He says overall the team is a "very enthusiastic" unit that looks "very promising."
One challenge that every team will face this season is that gap of experience between seniors and juniors versus freshman and sophomores. For Coach Hadar he says if there is any issues caused by that gap it will be early on in the season for Humboldt.
The coach knows that some areas might have had more opportunity to play than other. His philosophy is that every team gets better throughout the course of the year and that won't change this year.
Growing and getting better has always been Coach Hadar's approach to the season. "I hate to go out on a limb but I think we're going to be stout team by the time the state playoffs come around."
When it comes to the expectations for the 2021 Humboldt boys' soccer team Coach Hadar says they just "have to try and get better." He's confident that this year's team has "every chance" of getting to state that the team in 2019 did.
As the coach he is happy with the level of soccer and physicality that the team is bringing to practice. Already they've gotten the opportunity to have marathon sessions and play out in the rain. There has been no complaints from the team.
This year the Humboldt boys' soccer roster will feature 10 seniors, four juniors, six sophomores and five freshman.
Their first competition will be Monday, April 5th, at home against Greene County. The match will begin at 5 pm.
Featured Photo Courtesy of Rick Thompson.