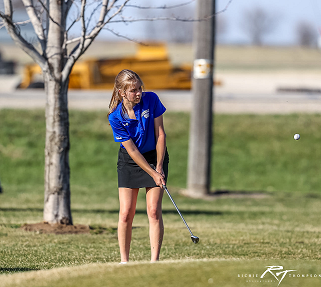 By: Donovan W. Mann – donovanm@977thebolt.com
Humboldt, IA – Humboldt High School girls' golf finishes second in a triangular to open their 2021 season.
On Monday, April 5, the Wildcats girls' golf team hosted Algona Garrigan and Spencer at the Humboldt Country Club. The course is a par 36.
As a team Humboldt shot 70 over par. Meet winning team Algona Garrigan finished 39 over par. Spencer finished 85 over par.
A pair of Algona Garrigan girls, Anna Berke and Annie Burns, led the meet by shooting six over par. The Humboldt girls finished individually with the following scores:
Nora Carlson – 8 over
Noelle Hamand – 18 over
Ashlee Wergeland – 21 over
Chloe Mayall – 23 over
Aries Packard – 26 over
Shelbie Heinz – 33 over
Humboldt's next girls' golf meet will be on the road against Pocahontas on Friday, April 6. They will tee off at 4:30 pm.
Featured photo courtesy of Rick Thompson.