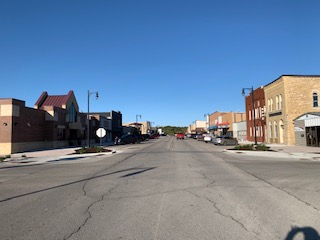 By: Donovan W. Mann – donovanm@977thebolt.com
Humboldt, IA – The City of Humboldt is finishing their payments to the contractor for the Downtown Revitalization Project.
During the most recent meeting of the city council they were presented with three action items in relation to this project and payments to Sande Construction. ISG Engineer Nick Frederickson was present to help present these items.
The first item to approve was pay estimate number eleven. Frederickson says this is a "semi-final pay app" that gets all of the "quantities up to quantities installed to date." This comes after the engineer worked with the contractor to get all the numbers in line based on the values of items completed. This is roughly $14,000 of work completed.
The second item for council was for change order number six to the contract. Frederickson says this is a typical order of business for the conclusion of a project to get "all the numbers to match so there's a clean paper work close out at the very end."
It adjusts all the quantities on the projects contract to match what was actually installed. Overall the project saw a total deduction of $36,102.93 to the contract.
The final item for council to act on in relation to the Downtown Revitalization Project was to approve pay estimate number 12 (final). This pay action approves engineer's statement of acceptability. It also allows City Clerk Gloria Christensen to pay the retainage of $52,473.91 (five percent of the total project) after 30 days.
The final contract price of the two year Downtown Revitalization Project came out to be $1,334,478.12.
Council approved all three resolutions unanimously