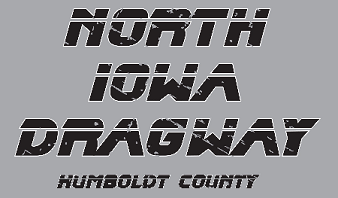 By: Donovan W. Mann – donovanm@977thebolt.com
Humboldt, IA – The North Iowa Dragway in Humboldt County is set to open for another great season of local racing action.
Owner of the local drag strip James Barhite says that they will be holding their official opening weekend events on May 1. It will be a test and tune session for the regulars to come out and get back on the track.
Barhite says they are ready for another season of racing to begin at the North Iowa Dragway. "Well we're getting pretty darn excited about it." He says there are "a lot" of new things coming for the 2021 season to couple with all the regular "great racing" that happens every weekend.
One of the biggest new events for the NID this season will be their "Quick 16 Races." These will be monthly races where the winner receives a $1,000 cash prize. Barhite says to "watch the Facebook page" for when they are scheduled.
Barhite says they already have one exciting special event planned for this season. "Probably our biggest event that is going to be happening is going to be June 25 and June 26." That weekend "JJ da Boss" from Memphis, Tennessee will be coming to the local drag strip to bring his arm drop racing.
This will be the first time JJ da Boss has come to the state of Iowa or been this far north. Barhite says "it should be one heck of a weekend, that weekend."
Along with the special events held at North Iowa Dragway they will, of course, be returning to their regular racing events. "We do weekly bracket racing," the owner says. The bracket racing happens every Saturday.
Most weekends the gates open at noon and then they begin time trials at 1 pm. The racing usually begins around 5:30 pm. "That's our core stuff is where you can see a lot of the local and others from, oh, we bring them in from Nebraska to South Dakota, Minnesota, Wisconsin."
North Iowa Dragway second weekend of the year is Mother's Day Weekend which will feature a test and tune session on May 7 and the first points race on May 8. Moms will get in free that weekend and can be entered in to win a free floral bouquet.
The North Iowa Dragway is ready to bring another exciting season of fast paced drag racing to Humboldt County.