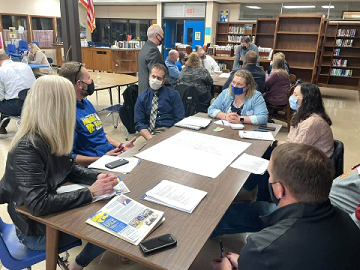 By: Donovan W. Mann – donovanm@977thebolt.com
Humboldt, IA – The Humboldt Community School District's School Improvement Advisory Committee identified key areas that the schools could work in efforts to grow.
During a meeting led by Superintendent Jim Murray of this committee on Wednesday, March 31, they discussed four main areas the schools would like to see growth and improvement. In these areas the committee discussed different ideas for projects.
The first area is "Culture." The top three ideas under this category were identified as:
More consistency with student conduct expectations PK-12.
More ways to recognize and celebrate students.
More ways for students to demonstrate citizenship and community involvement.
The second area is "Facilities." Top ideas for this category are:
Aesthetic improvement – Branding and Culture.
Future of the old middle school – we need to put a plan in place.
Classroom space at the middle school.
Area three of discussion is "Safety." Top three ideas are:
Secure entrances to office locations.
Restroom Privacy and maintenance.
Parent drop-off and pick-up.
The final area of discussion was "Communication." Top three ideas include:
Regular, positive communication from teachers to parents.
Stronger social media presence.
Streamline district communication from all buildings.
The SIAC is comprised of multiple stakeholders for the county's school district. This includes parents, community members, students, teachers, administrators and Board of Education Members.
This meeting was just to begin the discussion on these topics and later meetings are expected to occur to go more in-depth.