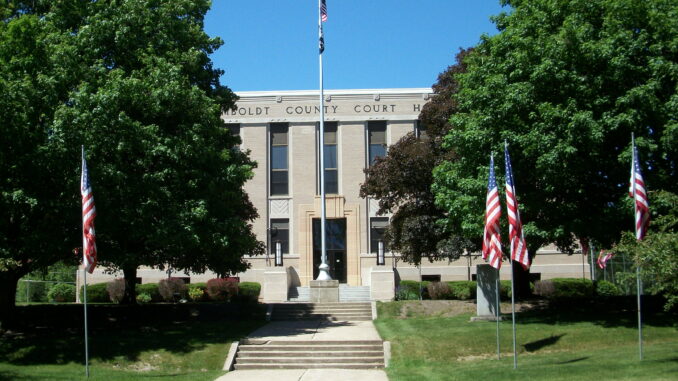 By: Donovan W. Mann – donovanm@977thebolt.com
Dakota City, IA – Humboldt and Pocahontas County are getting closer to an agreement on a shared sanitarian.
On Monday, April 5, the Humboldt County Board of Supervisors met again with Anne Thompson from the Pocahontas County Health Department. During their meeting they continued to discuss the 28E agreement between the two counties for the shared sanitarian.
Pocahontas County has hired Nate Vento to be their full-time sanitarian. Vento graduated in 2020 with a Bachelor's Degree in Environmental Science from Buena Vista University. He's been working the past year with C & D Construction and did an internship with the Department of Natural Resources while attending school. He is a current resident of Humboldt.
Thompson told the board that based on discussions with them and her Board of Health, revisions were made to the agreement's draft. This includes adding the one year sunset date and addition of language for the annual mileage rate.
The previous agreement that was last revised in 2014 also had Humboldt County getting billed quarterly and the new agreement have the billing be a month occurrence. Pocahontas County also removed the ability opt out of the agreement sooner than one year.
After reviewing the new agreement that was presented to them, Humboldt County's board requested three changes. The first was that the hourly rate of $35.28 be included in the agreement's language.
The second was the removal of language that amount billed "shall not exceed the budget amount by Humboldt County" because that amount is a hard guess and they don't want to be limited by a ceiling that is too low. The agreement also caps the work done to 20 hours a week.
The final change requested by the Humboldt County board was that there be language that cancels the old agreement upon acceptance of the new one.
Following the discussions the supervisors motioned to terminate the old agreement with Pocahontas County effective at the end of the fiscal year.
They tabled discussions on the new agreement until their next meeting so Thompson could make the requested revisions.