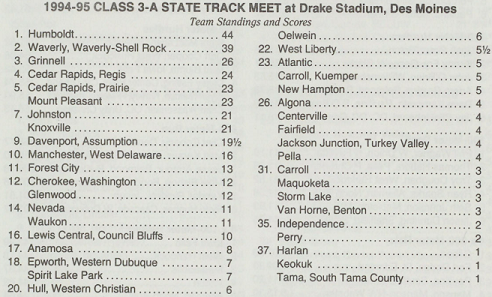 By: Donovan W. Mann – donovanm@977thebolt.com
Humboldt, IA – In 1995 Humboldt High School boys' track and field was able to capture their first team state title.
A team built on impressive athletes and led by the late Coach Charlie Bunn, the Wildcats made history by claiming the schools only State Title in track and field.
"The ultimate experience had to have been looking upon Coach Charlie Bunn's face," Jeremy Stattleman, member of the Humboldt group that won the 4 x 400 at state in 1995, says. "I mean the guy was literally glowing."
The former runner says the coach had planned out everything "down to the last detail." The coach slept very little leading up to meet. Bunn had every athlete competing at their best at just the right time.
"Everybody was there and so wrapped around the moment. It was just an unreal experience," says Stattleman. He thanks his teammate and former coach for the experience.
"I was very honored to be part of that team. It was definitely something very special."
In 1995 Humboldt competed in Class 3A. The Wildcats scored 44 points as a team in order to top Waverly-Shell Rock who had 39. Third place was Grinnell who had 26 points with Regis Cedar Rapids finishing fourth with 24 points.
The 1995 State Track Meet consisted of 13 running events and four field events. In total, the Wildcats placed in the top six of nine events. They won four, the most of any team.
Jon Lindaman won the individual state title in the 3,200 meter run with a time of 9:39.57 just edging Matt Mosman from Carroll Kuemper. Lindaman also won the 1,600 meter run with a time of 4:22.55
Jarrod Heinz won the 200 meter dash with a time of 22.15, edging Doug Miller from Mount Pleasant. Heinz also finished third in the 100 meter dash with a time of 11.25, slipping past fourth place Tony Collins from Assumption Davenport by one one-hundredth of a second.
Heinz, Lindaman along with Chris Taylor and Stattleman were part of the group that won the 4 x 400 meter relay. Their time of 3:23.35 beat out a tight race for second taken by Prairie Cedar Rapids who had a time of 3:25.07.
Other notable finishes for Humboldt in the 1995 State Track Meet includes a second place in the high jump from Brady Fleming with a jump of 6-4 that was just topped by Grinnell's Rich Wemer at 6-5. Chris Taylor finished fourth in the 800 meter run with a time of 1:57.59 and Humboldt had a sixth place finish in the 1,600 meter medley with a time of 3:38.51.
While Humboldt Track and Field continues to maintain a high level of success, the 1995 team will forever be in the history books among the greatest team to ever wear the Wildcats uniform.
Thank you to Phil Monson and the IHSAA for helping provide information for this story.