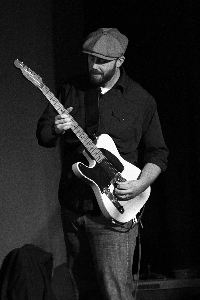 By: Donovan W. Mann – donovanm@977thebolt.com
Humboldt, IA – The Matt Woods Band is coming to Humboldt to open up KHBT's 50 Year Anniversary Celebration.
On Saturday, April 24, at 716 Main a live music event will be held to celebrate the radio stations 50th anniversary. Matt Woods and the Matt Woods Band will be the opening performance for the show.
Woods is a talented musician who likes to keep himself busy by finding different groups and bands to perform with. "I have my own band, the Matt Woods Band, and a play a lot of shows just as a solo act" he says. He also plays with Des Moines based Malcolm Wells and the Two Timers and the Patrick Recob Band out of Kansas City.
Woods also picks up performances with other groups whenever he can. He "likes to stay as busy as possible which has been a little bit difficult in the past year."
Matt Woods has found some success on the albums he has been a part of as a performer and producer. "I guess I've found some success with some albums I've done in terms of getting recognized by the Blues Foundation and certain music publications around the country."
The most recent record he worked on was with harmonica player Dustin Arbuckle and it was nominated for a Blues Music Award. "We're real proud of that." Woods has also been nominated for a few Blues Blast Music Awards for some of his past work. "I'm pretty proud of those accomplishments, I guess."
Matt Woods is a native of Des Moines and currently lives in the Ames area. He has been performing for over 20 year, since he was in college when he became serious about this career path. He also works as an agronomist at Iowa State University and has a wife and son.
Woods has five albums that he has made under his own name. He helps other musicians as a producer as well.
The full interview with Matt Woods will air on Wednesday, April 21, at 10:20 am on KHBT 97.7 the Bolt.
The Matt Woods Band will open the live music the following Saturday at 716 Main at 6 pm.
Featured photo courtesy of mattwoodsmusic.com.