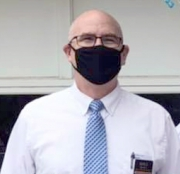 By: Donovan W. Mann – donovanm@977thebolt.com
Humboldt, IA – A long time employee at Hy-Vee is retiring after serving in various locations for more than four decades.
On Tuesday, April 6, Hy-Vee in Humboldt held a retirement celebrating for their retiring Store Manager Mike Brown. For 45 years Brown has been a Hy-Vee employee in various locations in and out of Iowa.
With so many years of experience under his belt Brown has plenty of memories but Humboldt holds some of the best. "There are so many great memories, I've made so many friends in every location I've been," he says. This makes it difficult to single out just one as the greatest. However, Brown says in general it's his "Humboldt family" at Hy-Vee that is his "fondest memory."
Coming to Humboldt in 1987 was not just a great career move in Brown's opinion; it was also a great family move. "My wife and I made home for our family." At the time they had two daughters and then in 1990 their third child was born.
"Humboldt was such a great place to raise our kids that we just stayed and that was probably the best decision I made in my career."
Now that he's retired, Mike Brown says he and his wife will be looking to catch up on plans they've made over the years. They have been married for 38 years and they have "38 years of plans." The first thing they are going to do is travel.
Unofficially, Mike Brown started with Hy-Vee in his home town of Corydon when he was 14 sorting glass bottles into wooden crates for the pop companies and sweeping the back room. Once he turned 16 he got moved to the front of the store "officially" to check and bag items as well as work frozen food. He even started doing orders for the cereal aisle while in high school.
After he graduated high school he left for Iowa City to attend the University of Iowa and continued working as a baker for the company. In 1982 he got moved to Lincoln, Nebraska to help open Hy-Vee's first store there. That was his first full-time job with the company.
Four months later Brown became a Bakery Manager in Spencer, Iowa. He was in Spencer until 1987 when he moved to Humboldt as a bakery manager. In 2010, Brown started working as an Assistant Director – Manager of Perishables in Fort Dodge. In 2013 he returned to Humboldt's location as an Assistant Director – Manager of Store Operations.
Finally, in June of 2020 Brown became Humboldt's Store Manager.
As he retires and finishes his time at Hy-Vee in Humboldt had one last thing to say:
"Thank you, Humboldt."