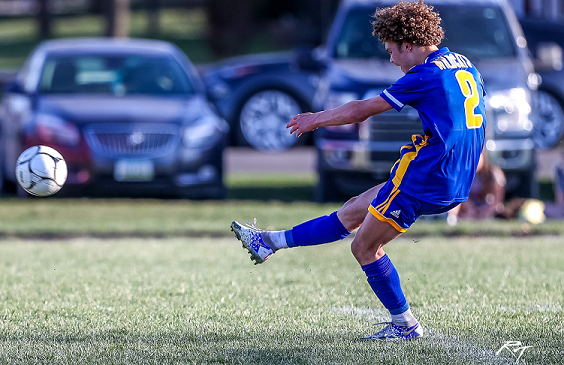 By: Donovan W. Mann – donovanm@977thebolt.com
Humboldt, IA – Humboldt High School boys' soccer comes back in the second half to get the season opening win.
On Monday, April 5, the Wildcats hosted Greene County to begin the 2021 season. Humboldt won 3-2.
Greene County got the first goal of the game at the eleven minute mark to take a 1-0 lead. Humboldt responded to tie it up at the 20 minute mark off the foot of Jame Gould. Greene County found one more goal with one minute to go in the half to take the 2-1 lead.
The second half was more on Humboldt's side. Max Mason drew a penalty kick four minutes into the period to tie the game up at 2-2. At the 61 minute mark Gould got his second goal of the game which ultimately became the game winner.
As a team the Wildcats took 14 shots, seven of which were on goal. Gould's two goals came on four shots that were all on goal. Max Mason, Jordan Jensen, Christian Ramirez, and Gaige Allen were all credited with assists in the game.
Zach Freideres played 71 minutes in goal for Humboldt and had four saves and two goals against him. Brandon Garcia Antonio had nine minutes in the goal and made two saves.
With the win Humboldt starts their season with a 1-0 record. Their next game will be at home again against Storm Lake on Thursday, April 8. Start time is scheduled for 5 pm.
Featured photo courtesy of Rick Thompson.