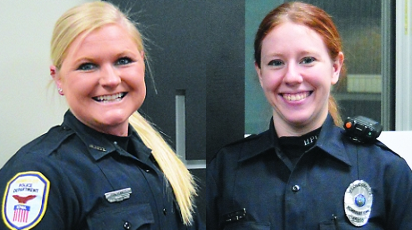 By: Donovan W. Mann – donovanm@977thebolt.com
Humboldt, IA – Two Humboldt Police Officers are being recognized for their heroic acts that saved the life of a local man.
On Monday, April 19, during the Humboldt City Council Officer Erin Bennett and Officer Amber Williams were presented the award by their Chief Joel Sanders:
"During the early morning hours of Saturday, January 16, 2021 Officer Erin Bennett and Officer Amber Williams responded to a private residence for a medical call. The officers arrived on scene and found an individual in cardiac arrest.
The officers, without hesitation, immediately provided life saving measures. The performance of the two officers saved the life of the individual and the individual made a full recovery.
This action under any circumstance is commendable. However, this situation forced the officers to adapt their response, overcome obstacles and put aside their emotions, because, number one, the AED failed. That's the instrument that when put on someone and shocks their heart back into rhythm.
So, the officers than had to conduct CPR for over 10 minutes waiting for the ambulance, because it was delayed.
One officer, Officer Williams, had only recently graduated the police academy and joined the Humboldt Police Department four days prior to the call. The individual in distress was not only a member of the law enforcement community; Officer Bennett was a neighbor and a close personal friend.
Because the officers applied their training, remained focused, maintained professional demeanor, they offered a wife, children, family and friend the opportunity to spend more time with the individual.
When others may have succumbed to frustration, become exhausted or lost the ability to remain calm, Officer Bennett and Officer Williams performed with the attitude, excellence and value that Humboldt expects form their police. Congratulation."
The individual who they saved is Kyle Kluender who serves as an Iowa State Trooper. He was present at the meeting and says there is nothing he could "every do to repay the both of them" for what they did for him and his family.
Officer Erin Bennett and Officer Amber Williams both presented a special pin by Chief Sanders in recognition of their performance. Both will also receive a certificate and a copy of his presentation speech.