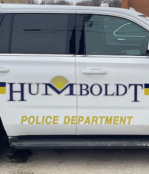 By: Donovan W. Mann – donovanm@977thebolt.com
Humboldt, IA – A local law enforcement leader is recognizing the importance of their position during National Police Week.
May 9-15 is recognized as National Police Week. Police Chief Joel Sanders says that police all across the country bring important value to the communities they serve.
He says that police help provide the need of keeping people accountable in society. "If police didn't exist, it would be anarchy." Police help assure that citizens follow all laws and regulations in their jurisdiction.
"Why would I stop at a stop sign if there is no penalty for stopping at a stop sign? You know there are people out there who, 'why would I pay for my meal if there is no penalty for not paying for my meal? And so we serve a need there that others can't serve."
When asked about what ideal traits a police officer should have, the police chief says "that's the million dollar question." In his opinion officers should have compassion, the ability to understand situations from all sides, the ability to think critically and good communication skills.
"The other stuff I can teach you. But personality, I can't teach you compassion. I can't teach you critical thinking skills. You got to come to me with those."
Police Chief Sanders says that the local law enforcement has those ideal qualities. After a few months on the job he says that he can tell both the Sheriff's Deputies and Humboldt Police Officers are "some very compassionate, very understanding, critically thinking individuals." The police chief says that he "couldn't have asked to come to a better staffed community."
There is still work to be done according to the police chief, who joined the department in February. "We've got things to work on but the DNA is there."
The Humboldt Police Department has seven sworn academy certified police officers. They continuously strive to protect and serve the City of Humboldt.