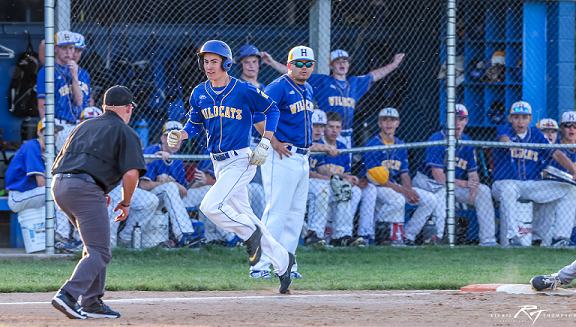 By: Donovan W. Mann – donovanm@977thebolt.com
Forest City, IA – On Tuesday, June 8, Humboldt baseball beat Forest City 10-4 on the road.
Humboldt scored first in the top of the first inning to take a 2-0 lead. Forest City fought back and took a 3-2 lead after two innings, scoring one in the first and two in the second.
The Wildcats would retake the lead in the third inning by scoring two. The lead would stick as Humboldt added two in the fifth inning and four in the sixth. Forest City's final run came in the bottom of the sixth to get the final score of 10-4.
Humboldt's winning pitcher was starter Hayden Holm. He pitched five innings, gave up seven hits, four earned runs, four walks and hit two batters. He struck out one.
Forest City's losing pitcher was Noah Miller. He pitched four innings, gave up seven hits, four earned runs and one walk.
Levi Newton led Humboldt, going 4-4 from the plate with five RBIs, a double and a home run. Joshua Thurm was 3-3 with two doubles and two RBIs.
Forest City was led by Brock Moore who was 2-2 in his at bats and was hit by a pitch. Reese Moore was 1-2 with a triple and RBI.
A final stat report from Humboldt baseball versus Forest City can be found on Varsity Bound.
The win improves Humboldt's record to 9-1 this season.
Next for the Wildcats will be a home game on Wednesday, June 9, against North Central Conference opponent Iowa Falls-Alden (3-4, 2-1 NCC). First pitch is schedule for 7:30 pm.
Featured photo courtesy of Rick Thompson.