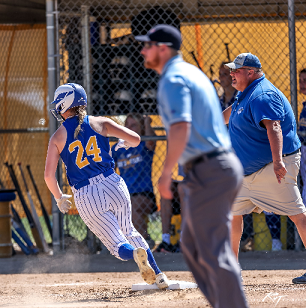 By: Donovan W. Mann – donovanm@977thebolt.com
Emmetsburg, IA – On Tuesday, June 8, Humboldt softball fell to Emmetsburg 9-4 on the road.
After a scoreless first inning, Humboldt would get the first run in the top of the second. Emmetsburg would tie the game in the bottom of the inning.
The Lady E-Hawks scored the bulk of their runs in the bottom of the third. 10 batters came to the plate and seven runs scored.
Emmetsburg added one more run in the fourth inning. Humboldt scored two in the fifth inning and one in the seventh to round out the 9-4 final score.
Humboldt's starting pitcher was Elsie Hubbell. She went two and one-third innings, giving up two hits, four walks, two hit batters and five earned runs. She struck out three.
Jori Hajek led the Wildcat's at the plate, going 2-3 with a double, walk and RBI. Reagan Lee was 1-2 at the plate with and RBI and walk.
A final stat report from Humboldt Softball versus Emmetsburg can be found on Varsity Bound.
The loss moves Humboldt's record to 8-2 this season. Brianna Lange was named player of the game by KHBT after she pitched three and two-thirds innings of relief, giving up two hits, one earned run and two walks.
Humboldt's next game is Wednesday, June 9, at home against North Central Conference opponent Iowa Falls-Alden. First pitch is scheduled for 7:30 pm following a JV game.
Featured photo courtesy of Rick Thompson.