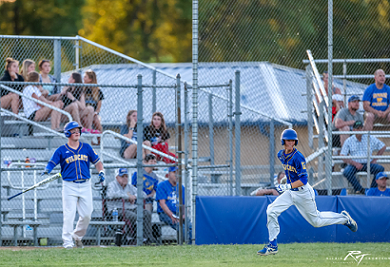 By: Donovan W. Mann – donovanm@977thebolt.com
Humboldt, IA – On Wednesday, June 9, Humboldt baseball beat Iowa Falls-Alden 12-2 in five innings at home.
Iowa Falls-Alden jumped out of the gates fast thanks to a lead-off home run from Carter Arends. Humboldt responded faster with a three run bottom of the first where all nine batters went to the plate.
Humboldt grew their lead by scoring four runs in the second inning when eight players went to bat. The lead grew to 12-1 in the third inning when Humboldt got five runs. The last one of the game by IFA was scored in the top of the fifth but Humboldt held on for the mercy rule win.
Cade Witzke was the winning pitcher for Humboldt. He pitched all five innings, gave up three hits, two runs and no walks. He struck out two batters.
Luke Kloetzer was the losing pitcher. He went two innings, gave up seven runs, five hits and walks. He struck out two.
Humboldt was led by Hayden Hold who was 2-2 from the plate with three RBIs. Levi Newton and Joshua Thurm were both 1-1 from the plate with two walks.
A final stat report from Humboldt baseball versus Iowa Falls-Alden can bound found on Varsity Bound.
Humboldt's record is now 10-1 this season and 4-0 in the North Central Conference. Hayden Holm was named the Player of the Game by KHBT as part of the broadcast coverage.
Humboldt's next game will be Friday, June 11, on the road against Central Springs. First pitch is scheduled for 7:30 pm, following a JV game.
Feature photo courtesy of Rick Thompson.