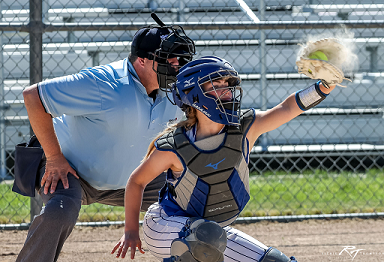 By: Donovan W. Mann – donovanm@977thebolt.com
Humboldt, IA – On Wednesday, June 9, Humboldt softball lost to Iowa Falls-Alden 4-1 at home.
Iowa Falls-Alden was able to jump out to the quick lead. The scored three runs in the top of the first inning and added another in the second.
The 3-0 score would hold until the bottom of the seventh inning. Elsie Hubbell would bat in Reagan Lee to get Humboldt their first run. With two outs, Humboldt had the bases loaded but they could not convert anymore runs.
Iowa Falls-Alden's Elise Osman got the win. She pitched all seven inning and gave up six hits, one earned run and one walk. She struck out six batters.
Humboldt's Brianna Lange got the loss. She pitched all seven innings and gave up six hits, three walks and one earned run. She struck out one batter.
Alexis Hansen led Humboldt at the plate. She went 2-3 with a triple. Hubbell was 1-3 with her RBI.
Iowa Falls-Alden was led by Elly Wood who was 3-4 with an RBI in her at bats. Rilee McKibben was 2-3 with two doubles.
A final stat report from Humboldt softball versus Iowa Falls-Alden can be found on Varsity Bound.
The loss moves Humboldt's record to 8-3 this season. They are now 3-1 in the North Central Conference.
The next game for Humboldt will be against Belmond-Klemme (7-4) on Thursday, June 10. First pitch is scheduled for 7 pm.