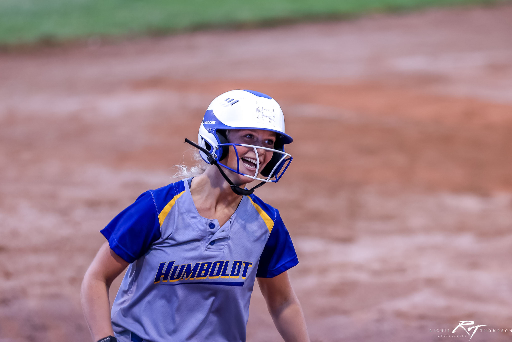 By: Donovan W. Mann – [email protected]
Pocahontas, IA – On Tuesday, June 29, Humboldt softball beat Pocahontas Area on the road by a score of 18-16.
The scoring started right away for the Humboldt Wildcats who got five runs in the top of the first inning. Pocahontas responded with four in the bottom of the inning to keep it within one.
The second inning was the only scoreless inning for either side. The score remained 5-4 going into the third.
Humboldt extended their led in the top of the third inning by adding three runs. Pocahontas scored two in the bottom half to stay within two at 8-6.
The Wildcats scored one in the top of the fourth inning but lost their lead in the bottom half. Pocahontas scored six runs in the bottom of the fourth to take the lead at 12-9.
Humboldt chipped away at the lead in the fifth and sixth inning. They scored two in the top of each of those innings while Pocahontas could only score one in the bottom of both.
Going into the seventh inning the hosts led 14-13. Humboldt scored five runs in the top of the inning to take the lead back at 18-14. Pocahontas scored two in the final period before Humboldt closed the door to win 18-16.
Humboldt's starting pitcher was Elsie Hubbell, who got a no decision. She went three innings, giving up eight walks, six earned runs, three hits and two hit batters. She struck out two.
Kendal Clark was the winning pitcher for Humboldt. She pitched four innings, allowing seven walks, four earned runs, two hits and hit batters. She struck out two.
Caroline Christians pitched the full game for Pocahontas. She gave up 17 hits, 16 earned runs, three walks and two hit batters. She struck out two in the loss.
For Humboldt, Jori Hajek was 3-5 in her at bats with two triples and a double. Clark was 3-6 from the plate with a double and home run, her eleventh of the season which breaks the program record for most in a single season.
A final stat report from Humboldt softball versus Pocahontas can be found on Varsity Bound.
The win pushes Humboldt's record to 12-10 this season.
Their next game will be Wednesday, June 30, on the road against Iowa Falls-Alden. First pitch is scheduled for 7:30 pm, following a JV game.
Featured photo courtesy of Rick Thompson.