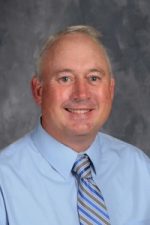 By: Donovan W. Mann – donovanm@977thebolt.com
Dakota City, IA – After an unprecedented year one, the Humboldt Community School District's leadership team is looking forward to a new set of challenges in year two.
Superintendent Jim Murray and most of the administrative team throughout the district will begin their second year of leading the district. Murray says that for him personally year one had two learning curves.
The first curve just being a superintendent, which he says he is always learning and the second learning curve was navigating the COVID-19 pandemic. "We were successful through that," Murray says. The key to the success was faculty, staff, students and families all being willing to follow the mitigation strategies according to the superintendent.
The second goal for the Murray was to establish relationships with the families and community. He feels like he was successful in establishing "as many community relationships" as he could. This includes joining organizations and just meeting people. "And I just love it here," he says in noting how impressed he is with the engagement and interested shown by the community.
Murray says that going into year two the school board has some goals they want to see leadership accomplish. "The board has very high expectations for our leadership team and staff, um, and I'm glad they do, I expect that."
They have tasked the superintendent to continue to communicate effectively with all stake holders. Murray says he also should be making sure resources are being used in a manner in which they best serve students and that the schools remain a safe and healthy learning environment.
In year two, Murray is going to work with a committee of stakeholders to heavily focus on improving all facilities in the school district. This includes activity facilities such as the weight room or multiple purpose facilities as well as updates to the concession stand and restrooms at the football, baseball and softball fields.
But "most importantly" Murray wants to address the classroom experience for students at all buildings, Mease, Taft, the Middle and High School. "So we are taking a global perspective of what needs to be done," says Murray. The committee hopes to put an immediate plan in place to address certain needs. Then they will also have a three to five year plan for less pressing matters.
Superintendent Jim Murray is excited for what his second year with the Humboldt CSD will bring. He will continue to work hard to assure the schools provide the best environment possible for the students in Humboldt.