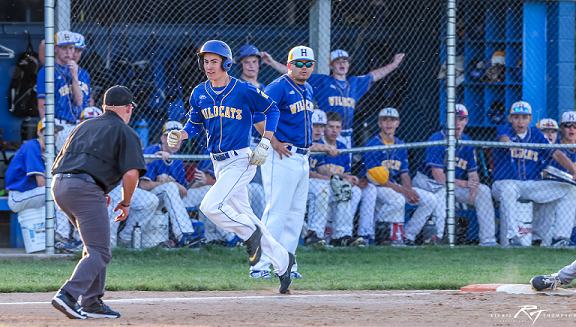 By: Donovan W. Mann – donovanm@977thebolt.com
Humboldt, IA – On Tuesday, July 14, Humboldt baseball lost to Storm Lake 8-5 at home.
In the regular season finale for Humboldt, they grabbed the lead in the bottom of the first inning. Caden Matson led the inning off with a double and got driven home on a ground out by Cade Witzke.
Humboldt got their second run in the bottom of the second inning. Joshua Thurm hit a double and came home on a wild pitch. After two Humboldt led 2-0.
Storm Lake scored their first four runs in the top of the third inning. The highlight of the big inning was a bases clearing triple by Jailen Hansen. Storm Lake led 4-2 after three.
Humboldt started a comeback attempt in the bottom of the fourth. Thurm led the inning off with a walk and came home to score on an error. Storm Lake matched the run in the top of the fifth to hold the 5-3 lead.
In the bottom of the fifth Humboldt tied the game at 5-5. Colby Clarken got a one out single followed by a Levi Newton walk. Hayden Holm batted in Clarken's courtesy runner, Trever Beach, on a single and Newton scored on single by Riley Sorenson.
The score remained tied through six innings. In the top of the seventh Storm Lake scored three runs including a two run home run by Pako Gonzalez. Humboldt loaded the bases in the bottom of the seventh with two outs but were unable to score. 8-5 final.
Humboldt's starting pitcher was Holm who got a no decision. He pitched four innings, gave up five hits, four earned runs, a walk and a hit batter.
Jayden Gargano was the losing pitcher for Humboldt. He pitched three innings, gave up four hits, three earned runs, a walk and a hit batter.
Storm Lake's winning pitcher was Hunter DeMey. He pitched three and one-third innings in relief of the starter, giving up four hits, no earned runs and a walk. He struck out four.
Holm finished is day 2-4 in his at bats with an RBI. Sorenson was 1-4 with an RBI for Humboldt.
A final stat report from Humboldt baseball versus Storm Lake can be found on Varsity Bound.
Humboldt will finish the regular season with a 22-9 record. Hayden Holm was named the Player of the Game by KHBT as part of the broadcast coverage.
Humboldt will start their postseason on Friday, July 16, at home against Charles City. First pitch is scheduled for 7 pm.
Featured photo courtesy of Rick Thompson.