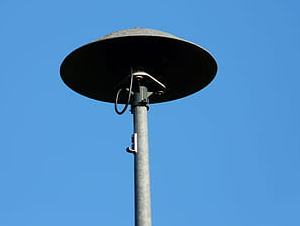 By: Matt Scher, [email protected]
Humboldt, IA – With the warmer months approaching, the Humboldt County Law Enforcement Center will begin testing storm sirens in our communities.
The weekly tests will begin this Saturday, Mar. 11 at noon.
The Humboldt Law Enforcement Center says ,"This is a good time to ensure that you have a home safety kit prepared and available in case of severe weather.  Include such items as a weather radio, a flashlight, blankets along with water and food.  Some other common things you should consider to be prepared are designating a safe place to go in your home or at work in the event of a tornado or high wind event.  This sheltered area should be a windowless interior room or the lowest level of the home or business.  It is also a good practice to conduct home and business tornado drills regularly so that each member of your family or business is prepared and knows what to do and where to go if needed."
Humboldt County's Emergency Manager, Kyle Bissell wants to remind us "Weather here in Iowa changes rapidly and we should all be weather aware.  If you hear the tornado sirens activate, seek shelter immediately.  Don't be scared, be prepared.  And as always let's continue to check on our neighbors to ensure they are okay too."
The weekly test will be conducted every Saturday at noon through November.