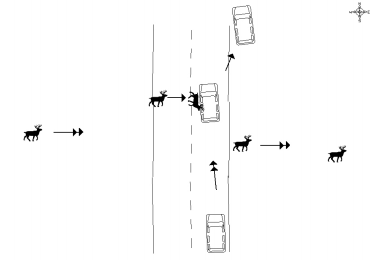 By: Donovan W. Mann – donovanm@977thebolt.com
Humboldt County, IA – No injuries reported after a deer runs into the side of a pickup truck early Thursday morning.
Deputy Kenneth Vorland of the Humboldt County Sheriff's Office reports that on Thursday, March 19, that Kristina Koch, 34, of Humboldt was traveling northbound on US 169 when some deer ran across her path from the west. One of the deer ran into the driver's side of her silver Chevrolet Silverado during the altercation.
The incident resulted in damages to the side of Koch's Silverado. She did not report injury to Deputy Vorland at the time of the incident. No citations were handed out at the time of the incident.