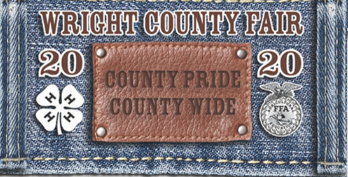 By: Sam T. Jensen – samj@977thebolt.com
Eagle Grove, IA – The Wright County Fair has been canceled for the 2020 season.
According to a Facebook post from the Wright County Fair:
"The Wright County District Junior Fair Board has been working for weeks to determine what would be the most workable way to host the fair in 2020 with the concerns of the COVID-19 Global Pandemic on our minds. Unfortunately, with the uncertainty of social distancing guidelines during the week of the fair we have had to make a very difficult decision to cancel all grandstand, grounds entertainment, food stands, carnival, open class exhibits, camping and vendors until 2021. This decision was not made lightly, not only taking into consideration the safety of those directly involved with the Fair, but also realizing the impact the Fair has on our communities and county.
While the grandstand and grounds entertainment have been cancelled until next year, our immediate focus will be with our youth, and to provide a safe and healthy experience for them this summer as they showcase their hard work and projects. That exhibition of 4-H/FFA Livestock and Static exhibits will be accomplished by keeping within the CDC and IDPH guidelines, as we all address the COVID-19 Pandemic. The board is also exploring options to live stream each show so others not able to attend can have the opportunity to watch virtually.
The Fair Board has given many hours to consulting with the Association of Iowa Fairs, the International Association of Fairs and Expositions, the Wright County Board of Supervisors, Wright County Emergency Management, Wright County Public Health, the Wright County Sheriff and multiple other county fairs. The decision was made with support of all these entities. The health and well-being of our fair participants, fair-goers, vendors, entertainers and volunteers is our highest priority. We appreciate and thank each of those involved helping us make this difficult decision!
On behalf of the Wright County District Junior Fair Board we would like to thank you for your patience, support and flexibility during this difficult time. We would like nothing more than to be able to pack the grounds to celebrate our County Pride – County Wide, but we must wait until it is safe. While we are saddened that we will not be able to host the fair for the public this year as a whole we will be back in 2021, stronger than ever."