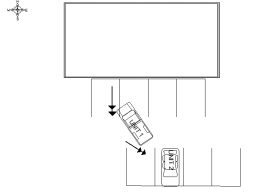 By: Donovan W. Mann – donovanm@977thebolt.com
Humboldt, IA – No injuries reported after a pickup truck backs up into a sedan in a parking lot Friday afternoon.
Officer Susan Rutz of the Humboldt County Sheriff's Office reports on the minor incident. Her report states that on Friday, July 31, that Kent Shipler, 58, of Algona was at a local fast food restaurant in Humboldt. As he was backing up a red GMC Sierra K2500 owned by Reding Gravel and Excavating Company he struck a legally parked white Ford Fusion owned by Brianna Jenson, 20.
The Incident resulted in no damages to the GMC Sierra and only minor damages to the Fusion. No injuries were reported by Officer Rutz at the time of the Incident.