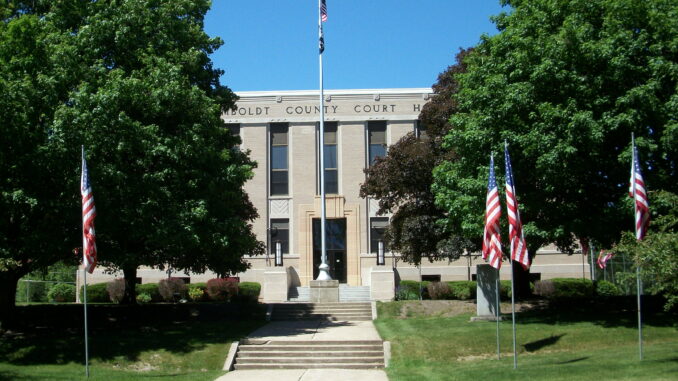 By: Donovan W. Mann – donovanm@977thebolt.com
Dakota City, IA – The Humboldt County Board of Supervisors are approving for the county's bonding process to go forward.
During the most recent meeting of the board they held a public hearing to discuss bonding out some of the county's substantial debt and high cost projects. Present for these discussion was Senior Vice President at D.A. Davidson and Company Michael Maloney.
During these discussions the supervisors discussed the final list of items to be bonded for. As previously reported by KHBT the county started the bonding discussions as they looked for a new way to pay off the lease with Motorola for the upgrades at the Humboldt Law Enforcement Center. Because the interest rates for borrowing money are so low the supervisors discussed adding on additional costs.
All previously discussed expenses have been approved to add into the bonding agreement. This includes upgraded radios and pagers for the county fire departments, new car and body cameras for the sheriff and police departments and the Reasoner Dam project.
Following the public hearing the board of supervisors moved forward to approve a resolution to continue the boding process. According to Maloney this resolution did two things:
"The public hearing provided the authority for the board to proceed with the planned refinancing and financing of identified project in a total up to the not-to-exceed amount" which was set at $2.78 million. This amount is not the actual amount the county plans to burrow but sets a limit to which they can. The resolution also approves "the preliminary official statement allowed for its use in marketing the bonds to potential investors."
The resolution was approved by the Humboldt County Board of Supervisors unanimously. The next phase of discussions on the topic of bonding is expect to occur during the next meeting on Monday, Sept. 21.