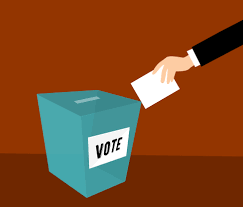 By: Donovan W. Mann – donovanm@977thebolt.com
Humboldt County, IA – The Humboldt County Auditor is addressing some more topics on absentee ballot requests.
A big topic surrounding this year's General Election is the mail in voting and absentee ballot requests. Humboldt County Auditor Peggy Rice addresses some of the concerns she's heard from the community.
She confirms people might have received more than one request form but her office is not the sender. "There have been multiple forms sent out for people for absentee request" she says. However they do not come from the county auditor's office and she says "we can't express that enough." Rice says the office has received multiple angry phone calls from people who have received multiple forms. Some areas the forms do come from are the political parties, different groups supporting causes or the Iowa Secretary of State.
Rice says that any valid ballot request form will be addressed to return to her office only. "Any of the forms that you fill out are good as long as those forms come back to us" she says. Some forms may be partially filled out, others may be blank but as long as it's an official form that's addressed to be sent to the county auditor's office it's okay. "Now if it goes to some other entity, I would question that one and not fill it out" Rice says.
The auditor confirms that multiple request forms filled out does not mean multiple ballots in return. She says that only one request for is needed to be returned for a voter to get their absentee ballot "and that's it." If a voter sends in multiple they are always matched with that their voter number and multiple request forms will be stapled together. "You're not going to get five ballots or two ballots, you get one ballots. That's it" Rice says. She's confident there is "no way" that someone will get more than their one ballot.
The deadline from a registered voter to request and mail in ballot is Saturday, Oct. 24 and any ballots be returned must be post marked by Nov. 2. Voters can track their absentee ballot request form and mail in ballot at sos.iowa.gov.
More on the topic of absentee voting and mail in ballots in the story Local auditors office working to keep mail in voting secure