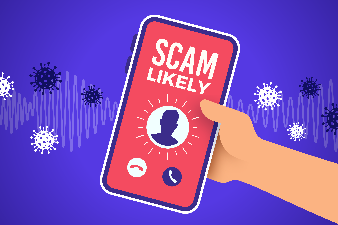 By: Donovan W. Mann – donovanm@977thebolt.com
Humboldt, IA – Local law enforcement is asking the community to be on the lookout for fraudulent calls.
Recently the Humboldt County Law Enforcement Center has been receiving an increasingly growing amount of reports of citizens receiving scam calls. These calls can target different demographic groups in hopes to acquire sensitive personal information. Humboldt County Sheriff Dean Kruger talks about some warning signs and measure to take when someone falls victim to a scam.
Kruger says there are many types of scams but there is some pretty clear warning signs for one of the most comment types. Some "classic signs" are the person on the phone says the IRS or local officer is going to arrest the person receiving the call. Other warning signs including the request for personal information such a banking or credit card numbers. "Please don't give that out to anybody" the sheriff asks.
If a citizen of Humboldt County receives a scam call they are encouraged to report it as soon as possible. Kruger says the calls can be reported directly to the LEC. For citizens living in Humboldt they should call the city's police office and for those outside the city limits they can call the sheriff's office. Law enforcement will write up a report if they receive a call about these fraudulent scams.
If someone were to fall victim to a scam the sheriff encourages immediate action to prevent further harm. He says the "best course of action" is to give the bank a call if a someone give out their banking info. The bank can then attempt to stop any charges or transfers from the account. The same advice is given for credit cards as well to avoid charges before they occur.
Humboldt County Sheriff Dean Kruger recommends common sense when a scammer calls to get sensitive information. If it seems suspicious hang up and report it to the Humboldt Police Department at (515)332-2600 or the Humboldt County Sheriff's Office at (515)332-2471.