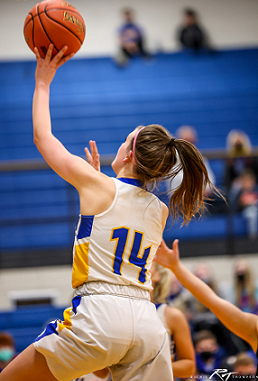 By: Donovan W. Mann – donovanm@977thebolt.com
Humboldt, IA – Humboldt High School girls basketball powers past Southeast Valley in the opening round of the postseason.
On Saturday, February 13, the Humboldt Wildcats hosted their Iowa Class 3A Region 2 quarterfinal game against the Southeast Valley Courage and won 70-48.
The first quarter was a tight start to the game with Humboldt forward Kendal Clark scoring eight points to help her team get the edge. The Wildcats took the lead 19-15 after one.
Humboldt continued to push the advantage in the second period with Clark gaining eight more point. It was a 37-26 Wildcat advantage at the half.
Things kept rolling for Humboldt as they scored 20 points as a team in the next to final period. Guard Bae Arnold had 10 points as the Wildcats pushed their advantage to 57-32.
Nothing changed in the final period as Humboldt continued their dominance of the Jaguars. 70-48 was the final score as Humboldt finished their final home game of the season with a win.
As a team Humboldt show 39.3 percent from the field including a 31.8 percent clip from three point range. They pulled in 35 team rebounds and had 13 steals. The team recorded 14 assists to 10 turnovers.
Clark was the team leading scorer with 23 points and had a double-double with 10 rebounds. Arnold finished the day with 15 points, all of which came in the second half. Guard Jayda Hoefer finished the day with 11 points and one rebound shy of a double-double.
A final stat report from Humboldt High School girls basketball game against Southeast Valley in the Class 3A Region 2 quarterfinal can be found on Varsity Bound.
The win for Humboldt will push their record to 18-4 on the season.  Bae Arnold was named the Player of the Game by KHBT as part of the broadcast coverage.
The Wildcats will face the third ranked Unity Christian (Orange City) on Wednesday, Feb. 17 on the road in the semi-finals. Tip-off is scheduled for 7 pm.
Featured photo courtesy of Rick Thompson.