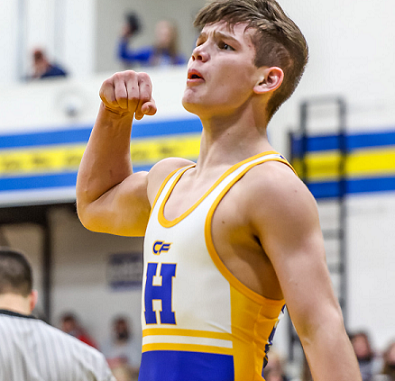 By: Donovan W. Mann – donovanm@977thebolt.com
Humboldt, IA – Humboldt High School wrestling advances two to state following the conclusion of district wrestling.
On Saturday, February 13, the Humboldt Wildcats hosted the Class 2A District 4 wrestling tournament. One Wildcat finished as a district champion and one finished runner-up to earn their spots at the state tournament.
Of the six Wildcats that came into the day still looking for a spot in the state tournament Jase Goodell (126) won the district championship. To do so he beat Cale Kirstein from Clarion-Goldfield-Dows in the opening round via decision 11-4.
In the championship round Goodell beat Kellen Moore from Forest City via decsion 9-0. This is Sophomore Goodell's second appearance in the state tournament.
At 106 Ty Gargano finished second after losing by fall (3:03) in the championship round to Jacob Zabka from Algona. Gargano made the championship round by beating the number one seed Darren Adams from Osage in the first round via decision 7-2. This is Sophomore Gargano's first state tournament appearance
Finishing third for Humboldt was Dylan Vaudt at 113, DJ Muir at 120 and Ty Gargano at 132. All three of them did not get the opportunity to wrestle for "true second" when their first round opponent's lost the championship round.
At 220 Colten Goodell lost by fall (1:09) in the third place match to Barrett Muller from Osage.
The traditional state tournament will begin on Thursday, Feb. 18 and continues through Saturday, February 20. It will be held at the Wells Fargo Arena in Des Moines.
Featured photo courtesy of Rick Thompson.