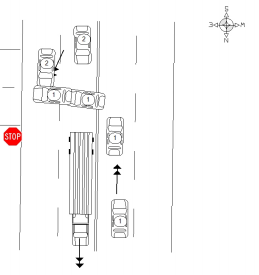 By: Donovan W. Mann – donovanm@977thebolt.com
Humboldt, IA – No injuries reported after two cars collide on Highway 169 on Saturday.
Officer Colton Monson of the Humboldt Police Department files the report on the two vehicle incident. His report says that on Saturday, February 20, a minor from Livermore was traveling south on Hwy 169 and Morgan Smith, 18, of Humboldt was traveling north. The minor turned left on 6th Avenue North and their blue Toyota Camry's passenger front was struck by Smith's black Jeep Cherokee. A witness confirmed the events of the incident to the responding officer.
As a result of the incident both vehicles were left disabled and had to be towed away from the scene. No injuries were reported by Officer Monson at the time of the incident.
The minor was cited for "failure to yield upon entering the highway."