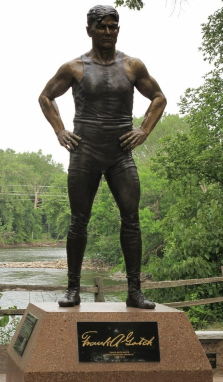 By: Donovan W. Mann – donovanm@977thebolt.com
Humboldt, IA – When discussing the sporting history in Humboldt the conversation starts with the wrestling legend Frank Gotch.
Frank Gotch was born April 27, 1877 in Humboldt, Iowa. According to current Humboldt High School Wrestling Coach Chad Beaman Gotch's legacy is forever part of Humboldt's identity.
"Humboldt, Iowa is synonymous with wrestling and Frank Gotch is probably the one responsible for that" he says.
Beaman says Gotch was considered to be "the best wrestler" in the 20th century back when professional wrestling was "legitimate, and that's saying a lot."
The coach says the only real comparison for Gotch's events to modern day is pay-per-view UFC championship fights.
"We're just very proud that his roots are right here in Humboldt, Iowa and that he was able to put wrestling on the map."
Gotch made his wrestling debut in April of 1899 against Marshall Green. That first match was Gotch's first of many victories on his way to the top of the professional wrestling ranks.
Most wrestling fans are familiar with Gotch and his accomplishments. He first went for the American Championship in 1903 but was defeated by Tom Jenkins. The rematch occurred in 1904 and this time Gotch came out on top and held the title for over eight years.
The Humboldt wrestling legend became the first American wrestler to claim the World free-style Heavyweight title by defeating "The Russian Lion" Georgia Hackenschmidt in 1908. Hackenschmidt later accused Gotch of using "unfair tactics" and in 1911 a rematch happened and Gotch was able to defend his title.
Gotch announced his retirement from wrestling in 1913 but wrestled his final match in July of 1916, an exhibition against Bob Managoff (onlineworldofwrestling.com).
Just over a year later he passed away at the age of 39. He was laid to rest at Union Cemetery in Humboldt.
According to the National Wrestling Hall of Fame Gotch's official record was 154-6. In his final seven years he never lost a fall and won 82 straight matches.
Twice Gotch got an invite to the White House by President Theodore Roosevelt. The wrestling icon was preparing to run for governor of Iowa before his death in 1917.
Gotch has been elected to multiple Hall of Fames including being a part of the inaugural class for the International Professional Wrestling Hall of Fame. This first class will be inducted on August 28, 2021 (prowrestlinghall.org).
On July 4th, 2012 Humboldt unveiled the statue of their hometown hero in Bicknell Park to honor the man who means so much to the sport and the community.