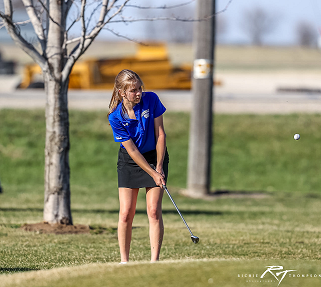 By: Donovan W. Mann – donovanm@977thebolt.com
Goldfield, IA – Humboldt High School girls' golf wins a North Central Conference triangular with two medalists.
On Thursday, April 29, the Wildcats traveled to the Oak Ridge Golf Course in Goldfield to face off against hosting Clarion-Goldfield-Dows and Hampton-Dumont. The course par is 35 with the team par set at 140 – top four golfers from each team making up the team scores.
Humboldt's team score was 63 over which put them on top of the three teams. Hampton finished second with a team score of 89 and CGD finished third at 92 over.
Wildcat's Nora Carlson and Aries Packard finished as the meet's two medalists. Carlson scored seven over par. Packard shot 16 over.
Here is how the rest of the Humboldt golfers played:
Adalynn Lawman – 19 over.
Tori Gargano – 21 over.
Noelle Hamand – 22 over.
Ashlee Wergeland – 22 over.
The next meet for Humboldt girls' golf will be on Friday, April 30, on the road against Iowa Falls-Alden. It will be played at the Meadow Hills Golf Course in Iowa Falls. It is scheduled to begin at 4:30 pm.