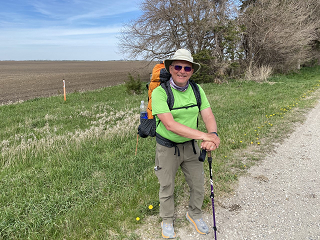 Sam T. Jensen – samj@977thebolt.com
Humboldt County, IA – Jeff Miller is currently on day ten of his journey to walk across the state of Iowa, raising awareness for Alzheimer's disease.
He began his trek in Akron, Iowa, and plans to walk the entirety of Highway 3 until he arrives in Dubuque. A 6-hour trip by car, nearly 320 miles. Miller said he was motivated by his sister, Linda, who passed away from Alzheimer's in 2017.
He originally wanted to do some international traveling, but COVID-19 prevented him from doing so. He thought walking through Iowa would be the next best thing. Miller said he had to prepare both physically and mentally.
Physically was no problem for Miller. At 64 years old, he stays in great shape by hiking, biking, and swimming. But it was a bit harder for him to prepare mentally.
"Because it's a long way, it's going to be hard, and there's been some real tough days. But I have to know why I'm doing this and I have a support system. A lot of friends and relatives. And that really helps."
Besides people he knows, Miller said what gets him through most days is a simple act of kindness from a random stranger.
"I stopped in Gilmore City and an older couple brought me cookies and cold water. I have not had one negative experience on this whole trip."
After Gilmore City, Miller spent Friday night in Humboldt for a much-needed rest. He is currently back on the road with less than 200 miles until his destination.
"Never have I thought about quitting on this hike. Never."
Miller has received more than $1,200 in cash donations since he began walking on April 24th. He encourages people to donate directly to him or online at the Walk to End Alzheimer's website.