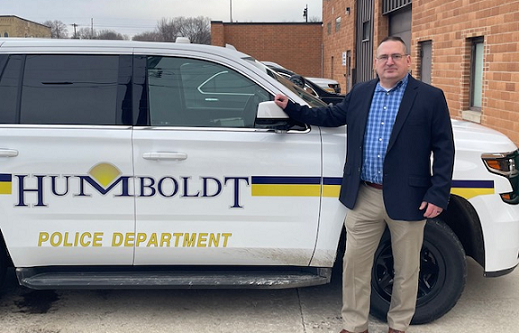 By: Donovan W. Mann – donovanm@977thebolt.com
Humboldt, IA – Humboldt's police chief is settling in but recognizes there is still work to be done.
On January 11, Joel Sanders started his time with the Humboldt Police Department as the next Police Chief. After 30 days he returned to his former position in Urbana, Illinois, to finish work there before permanently moving to Humboldt.
Now here full time, Chief Sanders says he is settling in nicely but is not where he expects to be once the administrative work is all caught up. "So, I've spent a lot of time inside, more than I'd like to." He says his preference is to be out more during his shifts than he has gotten the ability to. With the warmer weather approaching he plans to make more time to be out.
Personally, the police chief has found Humboldt to be everything he expected it to be "and more." He says he and his wife have "fallen deeply in love with the community" and those they have come in contact with.
Coming into the department, Chief Sanders knew there would be a lot of administrative work to get done. "I knew that coming in and so I've not been surprised by any of it." However, there have been a few details that have made him go "huh."
"And I'm not sure how you say that in a positive fashion but there's a lot of work that needs to still be done to get the [Humboldt] police department to a 21st century police department."
One of the big points of emphasis coming in for the police chief was to get community input which he says has not brought up any red flags. In February he hosted three listening sessions specifically designed to hear from the community. Only one had anyone attend.
Chief Sanders says this was for a "variety of reasons." One of these reasons is that "as a default" the citizens of Humboldt and the county appreciate the work done by their law enforcement. "I haven't found any significant concerns about the Humboldt Police Department."
Police Chief Sanders says he does plan to hold future listening session further down the road. He continues to be eager for the work ahead that will help the Humboldt Police Department and the officers grow into a top level department.