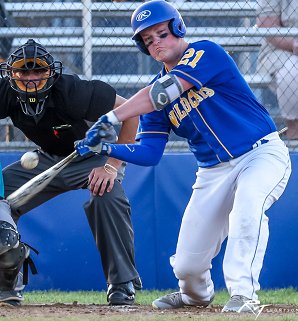 By: Donovan W. Mann – donovanm@977thebolt.com
Humboldt, IA – On Monday, June 7, Humboldt baseball beat Hampton-Dumont-Cal 6-5 in a comeback walk-off.
Hampton-Dumont was able to strike in the top of the first inning. The Bulldogs scored four runs as Marco Gurrero led them off with a single and two outfield errors on the Wildcats occurred. Humboldt managed to get one back in the bottom but still trailed 4-1.
Hampton-Dumont added another run in the second inning. The 5-1 advantage for the visitors would hold until the fifth inning.
Humboldt started their comeback in the bottom of the fifth with Trevor Jacobson drew a one out walk. He would come around to score on a sacrifice RBI fly by Caden Matson. The Wildcats added two more runs in the sixth to get back within one.
In the bottom of the seventh inning Humboldt was able to load the bases with one out. Levi Newton stepped to the plate and delivered a two RBI single that scored Jacob Heier and Matson for the win.
Matson was the winning pitcher for Humboldt. He pitched one inning, giving up a hit. He struck out three batters. Starter Colby Clarken went six innings, gave up four hits, one earned run and four walks while striking out six.
Tommy Birdsell was the losing pitcher for Hampton-Dumont. He got just one out in the bottom of the seventh, giving up two earned runs, two hits, a walk and hit batter. Starter Brayden Johnson pitched six innings, giving up four hits, three earned runs, two walks and two hit batter. He struck out eight batters.
Newton was 2-4 at the plate with the two RBIs and a double. Matson was 1-1 in his at bats, one RBI on a sacrifice fly, a walk and was hit by a pitch.
Hampton-Dumont had Marco Guerror, Mario De La Cruz and Payton McNealy all were 1-3 at the plate.
A final stat report from Humboldt baseball versus Hampton-Dumont can be found on Varsity Bound.
Humboldt's record is now 8-1 this season and 3-0 in the North Central Conference. Levi Newton was named the Player of the Game by KHBT as part of the broadcast coverage.
Humboldt's next game will be Tuesday, June 8, on the road against Forest City. First pitch is scheduled for 7:30 pm, following a JV game.
Feature photo courtesy of Rick Thompson.