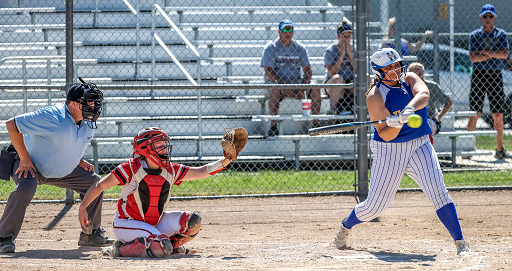 By: Donovan W. Mann – donovanm@977thebolt.com
Forest City, IA – On Thursday, June 17, Humboldt softball lost to Forest City 16-15 on the road.
Humboldt started the game down big. After Kendal Clark and Jori Hajek got on base via back-to-back lead off walks they were unable to score. Forest City scored 13 in the bottom of the first as the saw 17 batters come to the plate. All 13 runs were unearned after three Wildcat errors.
Down 13-0, Humboldt started a comeback in the top of the second. Elsie Hubbell scored on a ground out by Joie Smith.
The big inning for Humboldt was the top of the third will trailing 13-1. The Wildcats scored 10 runs as 14 batters came to the plate. Highlights included two doubles by Clark  and three RBIs on base hits by Hajek.
After both teams went scoreless in the fourth inning Humboldt got their 12th unanswered run in the top of the fifth, Macy Varangkounh scoring on a sacrifice fly by Reagan Lee. Forest City responded by scoring two in the bottom of the inning to make the score 15-12.
Humboldt continue the fight in the top of the sixth. Rylee Coyle led the inning off with a home run and Hajek would score Varangkounh on a sac-fly. Forest City got one of those runs back to make it 16-14 going into the final inning.
Top of the seventh inning, Humboldt got a lead of single by Lee. She would come around to score with two outs on an RBI single by Rylee Coyle. However, Humboldt's comeback bid fell short at 16-15.
The starting pitcher for Humboldt was Kendal Clark. She pitched two-thirds of an inning, giving up no earned runs, four hits, three walk and three hit batters. Brianna Lange and Elsie Hubbell pitched the rest of the game.
Forest City's pitcher was Alyson Walker. She pitched all seven innings, giving up 15 runs, 10 hits, eight walks and three hit batters. She struck out three.
Humboldt was led by Clark, going 3-3 in her at bats with two doubles, RBIs and walks. Hajek had four RBIs on her 2-2 day, also hit by a pitch and walked once.
A final stat report from Humboldt softball versus Forest City can be found on Varsity Bound.
Humboldt's record is now 8-8 this season. They have lost seven straight games.
Kendal Clark was named the Player of the Game by KHBT as part of the broadcast coverage.
The Wildcats' next game will be on Monday, June 21. It will be on the road against North Central Conference opponent Clarion-Goldfield-Dows (1-13, 0-9 NCC). First pitch is scheduled for 7:30 pm, following a JV game.
Featured photo courtesy of Rick Thompson.